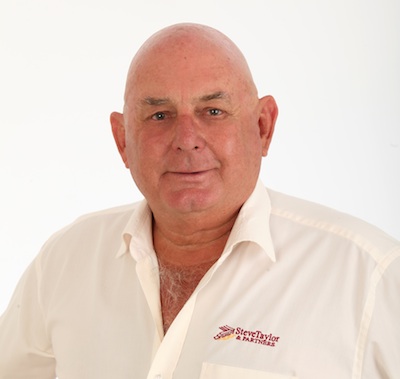 Steve Taylor & Partners
has been established for over 30 years, with Steve at the helm delivering expert
property investment advice
and product knowledge to clients.
Steve is actively involved with the local community and has been a major sponsor of Golf and Rugby Union in the Central Highlands region of Queensland. He supports many other local schools, charities and community groups. He has been House Director of Emerald Golf Club and President of the Emerald Chamber of Commerce, Central Highlands Regional Councilor for Commerce Queensland and has also been a member of the Advisory Committee for Central Queensland University.  On 16 November 2014, Steve was also honoured by being awarded Honorary Life Membership of "Golf Central Highlands" in recognition of his long and meritorious service to golf in Central Highlands.
He is past President of the Rotary Club of Emerald Sunrise which raise much needed funds for worthwhile causes both nationally and internationally.  Steve has been honoured with the Paul Harris Fellow award by Rotary International in appreciation of his efforts.
Steve is past President of the "Friends of Emerald Art Gallery"
Steve Taylor & Partners' long term approach involves using a builder of high repute who only uses tradesmen that take pride in producing quality houses that are built to last. Every block of land and relative house plan is inspected and personally approved by Steve before it is offered to his clients. All homes are guaranteed for 6 years by the builder, Mancorp Quality Homes who are a member of the Queensland Master Builders Association.  In July 2008 they awarded Mancorp "Best Display Home" and the President's award for "Excellence in Construction".  Mancorp Quality Homes also pride themselves on being DEBT FREE.  This translates into savings on time and construction interest for our clients.
"The Master Builders Presidents Award is a special award that recognises a builder who has built a quality home that combines affordability with quality workmanship and innovation.  It is awarded to a home that Queenslanders can aspire to without the need to win Gold Lotto.  In addition to achieving high points against the standard judging criteria, the construction costs of the home that takes out this award must not exceed $400,000.  With the value of the homes across QLD spiralling upwards and the dream of owning your own home getting tougher, its important to recognise affordable, good quality homes."
~ J Russell, Manager Communications and Marketing, Master Builders.
Find out why Mancorp Quality Homes was awarded the Presidents Award ~ Mancorp Points of Difference.
At Steve Taylor & Partners, we select estates where the majority of homes are owner occupied. We never phone or call on a client who has not invited us to do so.
'We're here for the long haul…'
Please contact our office to schedule a cost free, no obligation consultation with Steve and find out if our service is suitable to your needs.